The Original Window Hammock offers an innovative & extra comfy elevated perch for your purring friends.
Cats love to explore from an elevated position so it easily becomes their favourite spot of the home.
Imagine your kitties snuggling up beneath warming sunbeams, happily watching over birds & squirrels, while all that floor space is saved and the furniture stays intact.

Cat's absolute favourite spot of the house 
A few facts about Cat Window Hammock:
<> Sticks to any clean window & stays on. Removal without damaging the window (unless your cat is protesting).
<> Industrial strength suction cups - holds up to 40 lbs of cat. Withstands jumping, too.
<> cat friendly - hammock measures 35cm*55cm.
<>
 Thin yet strong steel cables -
100% chew-proof

.
<> The hammock fabric is machine-washable.
<> Color: Khaki, Light Blue, Green, Purple.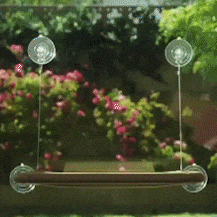 Package Include:
1 x Cat Window Hammock
4 x Tubes.
2 x Cords.
1 x Cover.
4 x Suction Cups.