CAT LITTER ALL OVER THE APARTMENT?
You probably know it when you walk through your apartment and cat litter sticks to your feet. Conventional mats are ignored by cats because they are made of the wrong material and size. Even if you love your cat, cleaning up can be a real pain.
Double Layer Cat Litter Mat
Keep your floors clean with the innovative it!
Thanks to the specially formed honeycomb pattern, it effectively filters out the cat litter residue after your cat has gone to the toilet, thus guaranteeing a cat litter-free home.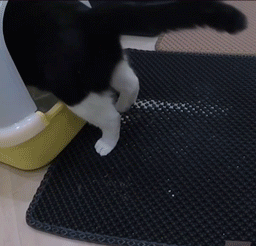 It is made of animal-friendly premium materials and, with our two different sizes, provides a perfect base in front of the litter box.