Features:
1. Realistic simulation of animal fur. long hair carving printed velvet soft cloth cover super soft feel.
2. Usb rechargeable design. large capacity battery can be used for a long time. a charge is expected to be up to 200 beats.
3. The cloth cover can be washed and replaced. It is recommended to clean the cloth cover regularly and replace it regularly.
4. The lobster shape design comes from the nature of cats which can attract the attention of cats.
5. It can accompany cats to spend the boring time when the owners are not at home.
6. Toys can let cats do some exercise which is beneficial for their health. and it can ease cats' unhappy mood and release the pressure.
Package Included: 1*Plush lobster cover. 1*motor core. 1*USB charging cable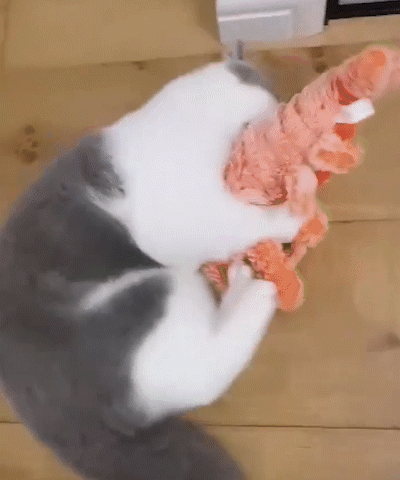 Product details
Jumping Shrimp Product Description:
Product name: Pet Jumping Shrimp Toy
Product weight: 105g
Charging mode: USB charging
Rechargeable battery: polymer lithium battery
Charging voltage: 5V
Battery capacity: 300mAh
Product size: 26*14*7cm(10.24*5.51*2.76in)
Features:
Three tail swing modes
Can add catnip
USB rechargeable design
Velvet soft cloth cover
Cloth cover can be washed
Alt