The Pet Grooming Hammock helps keep your four-legged pals comfy while you groom them!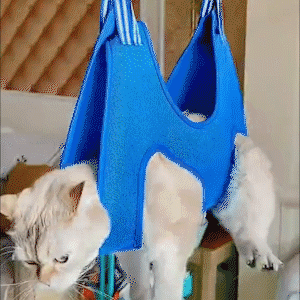 Size:
S:57*44CM/22.44*17.32",Spacing between front and rear legs:26cm/10.23"
M:65*51CM/25.59*20.08",Spacing between front and rear legs:32cm/12.60"
L:78*57CM/30.71*22.44",Spacing between front and rear legs:34cm/13.38"
FEATURES
Comfortable - This pet grooming harness bag is designed with a breathable and flexible 3D mesh structure to keep your pet comfortable. The thicker hemming around the holes reduces friction on your pet's legs, making them calm and relaxed for grooming. In addition, this product is easy to clean, hand wash, and machine wash.
Sturdy and Durable - This helper is made of mesh textile material, the sling is sewn with a special process, not a rope ring design, so do not worry about it tearing and falling off.
Convenient - As a pet owner, it is easier for you to give medicine to pets, clean their teeth and ears, and use eye drops when you have this dog grooming sling hammock at home. You don't have to worry about being bitten. Besides, grooming hammock is also a good helper for veterinarians.
Ideal Gift - If you have friends with pets, this is a perfect gift, which will help them taking better care of their sweetheart.